The natural state of
MOTHERHOOD
is unselfishness.
Bringing another life into this world is scary but exciting. For my previous pregnancies I've been sick and it reflected in my appearance. This go around I've been doing well...better than I expected.
So, I plan to make it a big deal. This is the LAST baby and since I feel well enough to put on clothes, I will. I was so excited when Pink Blush reached out to me for this collaboration, I knew I couldn't refuse.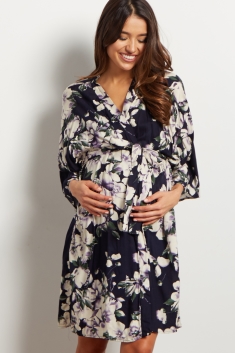 Purple Floral Delivery/Nursing Maternity Robe
A floral printed delivery/nursing maternity robe to make sure your visit during and aft... [More]
The goal of this company is to "provide the modern mother with affordable and on trend fashions for every transitions in her life – from maternity to motherhood and beyond." I feel they have executed this precisely!
The first piece I selected was the maternity robe! How stinking cute is this? My favorite part about it is that it's not your traditional robe. It has a tie on the inside to expand with your growing belly as well to keep you covered if you decide to nurse. I want something that I'm comfortable enough to walk around the house in when we have guest over and this is perfect. It's light weight with a thick cotton.
Sizes Available: 1X, 2X, 3X
The next piece I choose was a fall floral maxi dress! I can't wait until fall and fingers crossed it will be here soon! As most of you know, I've been stepping outside of my comfort zone lately and trying some color! This dress caught my eye and I knew I couldn't pass it up! I love the hints of light blue (as I'm praying for a boy, lol) and burgundy as they work so well together.
The dress provides great stretch. I can see this working well later into my pregnancy as well. The top is roomy for my bustier girls. I felt extremely confident and comfortable. The dress hit at a pretty good length I paired my dress with flat sandals but a bootie will be perfect as the cooler weather comes.
Sizes Available: 1X, 2X, 3X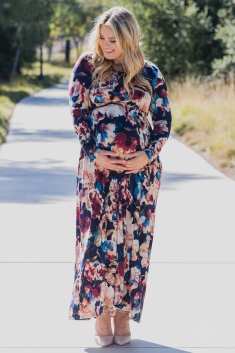 Navy Blue Floral Print Sash Tie Maternity ...
Feel comfortable in this sleek and flattering floral print sash tie maxi dress. The tex... [More]